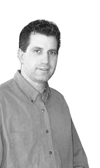 Mark Caruso
Vice President
I believe our current approach and success in the competitive business world today will have to be different for continued success in the future.
As most of you know the UAW negotiated November 7th, Election day, a paid day off. This gives us all the opportunity to vote, with no excuses. This election is the most critical ever for our nations labor force and, more specifically, the UAW. So, do your family a favor, vote November 7th.
It looks like we have a new lawn ornament, the new Visteon sign that sits in front of the plant. Although it looks like something half finished, it is here to stay. I know many of you are not too excited about the spin-off from Ford to Visteon. Just remember we still have customers to satisfy and a level of quality to maintain. We as UAW members must maintain the highest level of work ethics and responsibility to ensure that we are doing our part in the role we play here at Saline. This positive attitude will be conveyed to our new Local 892 members. Most importantly, we will always be UAW/Ford employees. Doing our part will enable us to expect and demand that management at Saline to do their part:
· Respecting our Local and National contract by adequately educating the new supervisors.
· Providing us with properly engineered assembly lines that facilitate an ergonomically correct and safe working environment.
· Supporting (attending) our EI and FPS groups and instilling a positive attitude among the group.
Unfortunately, supervision is struggling with job processes that do not work, and assembly lines that are poorly engineered. Worse yet, UAW members are expected to make up for engineering and time study errors.
Management, through numbers, has abandoned the fundamentals of human motivation. Today, members are seeking career purpose more than ever. True leaders instill purpose among their employees. The test of tomorrow's successful manager will not lie in his or her ability to make commanding decisions, but rather in his or her ability to develop and collect ideas from the hourly work force to bring about the best possible decisions for the business.
In Solidarity,
Mark Caruso – Local 892,UAW Vice President