Local 892 Gives First
Mary Alexander Scholarship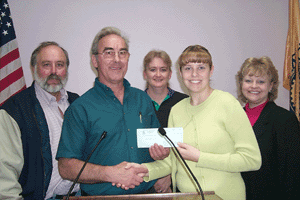 Local 892 would like to congratulate Dana Molenda and her parents David and Sandy Pullou on winning the Mary Alexander Scholarship for 2001.
She was born Mary Margaret Gholson, September 8, 1943 to Carl and Dorothy Gholson in Tucson, Arizona.
She died suddenly of a kidney failure induced heart attack Monday, April 20, 1992.
Mary lived most of her life with one functioning kidney. As the years went on, the one kidney became weak and she was in need of a kidney transplant. Mary was on the waiting list for a donor kidney, at the time of her death.
Even though her health wasn't the best at times, Mary always found time for her family and her Union. Mary hired into Saline in 1970 and almost immediately became involved in the Union. Over the span of her membership, she served as a Alternate District Committeeperson, Recording Secretary, District Committeeperson, GEN Representative and she even ran for President, the year before she died. Mary also served as a Con-Con Delegate, a number of times and she served on the Women's, CAP and the Constitution and By Laws Standing Committees.
Mary was also a co-writer for the District Committee Training Manuals. She even taught grievance procedures, to in-plant committees, at various Locals. I can go on and on about what all Mary did for this Local and the UAW. The short of it is, Mary believed in the UAW and what it stood for. She also believed in education. She was always trying to get members involved in the many classes offered here at the plant. She would say, "There's always something you don't know today that you can learn tomorrow." Mary's dedication to the union and to education is why the Officers of Local 892 have established the Mary Alexander Memorial Scholarship Fund, to continue Mary's dream that everyone has the opportunity to expand their minds and continue their education beyond high school.
"There's a world of knowledge out there, now go get it"
Respectfully written, Mary's sister, Terri Coffey, Recording Secretary, Local 892